Life
Struggling to Balance Charity Work and Income
I co-found Protect Earth in 2020 and none of us knew how big it would become. We plant tens of thousands of trees all over the country every year, and for me that work is entirely unpaid. Being brutally honest I could do with some help.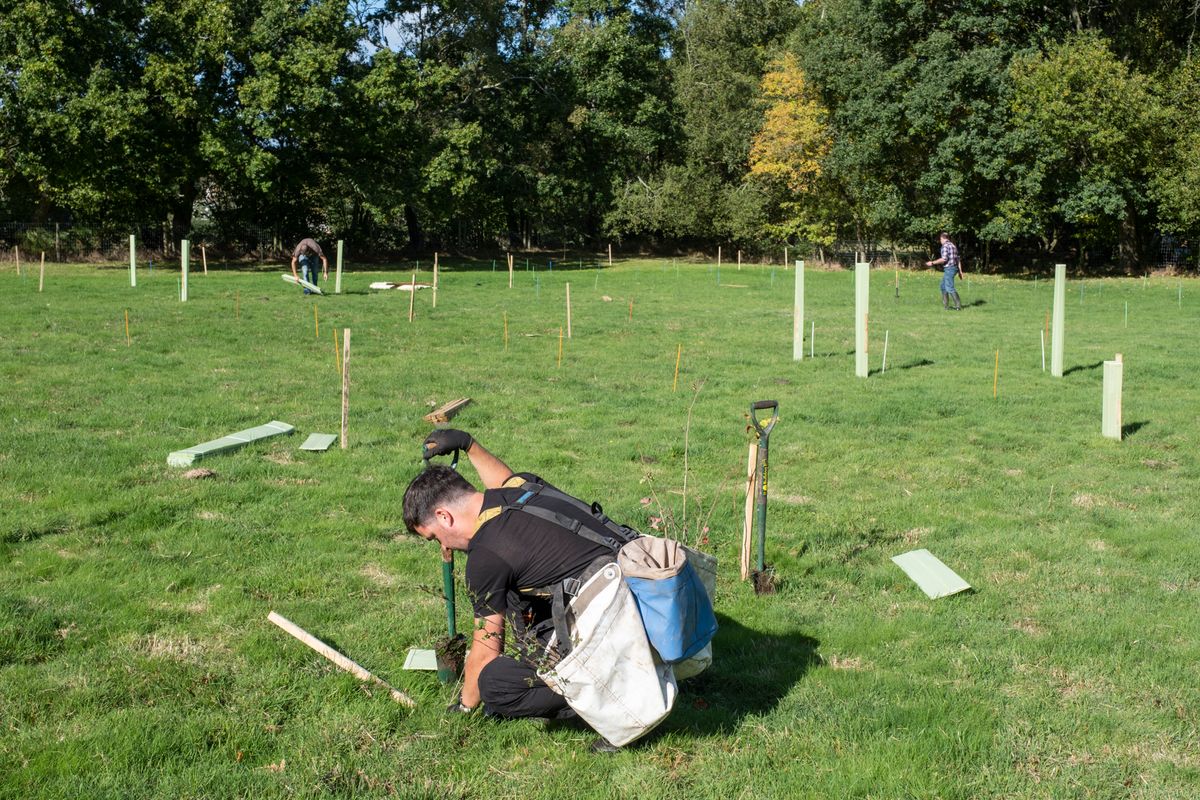 I co-found Protect Earth in 2020 and none of us knew how big it would become. We started planting on a single farm, and since then we've planted with sixty different landowners, purchased 140 acres of land, and leased more, so that we can maximise our impact in the fight against the climate and biodiversity crises.
In the average week I'm consulting various councils, assisting with community buyouts across the country, meeting with the Woodland Trust, Wildlife Trusts, speaking on podcasts explaining the ins and outs of tree planting, and visiting countless pieces of land we're trying to buy. I'm constantly shaking my ass for more philanthropic donations, working out business plans to scale the charity, spreading our work to invasive species removal, and shouting at the government for their consistent failures in supporting woodland creation and wildlife restoration through grants they've commited to.
People are always surprised to hear that I do not get paid for any of this.
Protect Earth has taken up an increasing amount of my time. It started as evenings and weekends whilst I continued to do tech work, but towards the end of 2022 it was up to about 60 hours a week and tech work was falling to the side. I suggested we hired an old and trusted friend to take over some of the operations of the charity and assit the rest of the staff, but that ended up not working out at all. I had to fire one of my best friends, and as I reabsorbed all of that work along with the new workload I'd taken on with him handling that everything became ridiculous.
Client work suffered, and in early 2023 the economic downturn meant several of my clients chose not to renew their contracts. As my income slumped I had to give myself repeated pay cuts over the year, which not only makes life hard for me, it's made it incredibly complicated keeping my Dutch company Green Turtle going. I have been fighting for scraps of client work. A blog post here. An hour of consulting there.
I loaned every personal penny I had to Protect Earth to provide a cash float for our tree planting and land purchases, which seemed fine when I was on that sweet sweet NYC tech money, but as that loan is repaid I am spending it like salary instead of putting it back into savings. This helps me eat, and I already live in a tiny electric van I bought to help the charity not need to keep hiring expensive polluting diesel vans, but none of that helps keep Green Turtle afloat, which I need to maintain Dutch residency and not loose access to Europe (for work, and because I live in Amsterdam when I'm not planting trees in the U.K.)
Whilst I am working incredibly hard to scale Protect Earth to a point where it could sustain more staff salaries (mine included), it is not there yet, and will not be if we focus on paying me instead of buying more land and getting more trees planted. The are loads of charities out there doing far less than we do, with far more paid positions, and I don't believe the climate has that sort of time.
Within a year or two there's a chance we can afford more staff from carbon credit sales. This is controversial, but woodland creation credits are far less nonsensical than woodland protection credits. I also want to focus on selling specifically to companies who are working on slashing their emissions with Net Zero targets, instead of selling to greenwashing companies simply doing Carbon Neutral, but that's another topic for another post.
With so many problems in the world asking for handouts always felt completely unreasonable. No matter how hard I may be working elsewhere I do not want anyone to give me money for nothing when they could be supporting people all over the world who need money more than me. I want to work for it, and there's a few ways I can do that.
Hire me for consulting - I'm doing a few API design and development workshops for various companies, and I'd love to start doing more Green Software sessions and workshops too, so we can reduce the carbon footprint of the software we're building.
Short term contracts - I've got a few companies putting me on retainers for a few hours a month, helping with production design, API design, doing occasional API training, but would be happy to do a day or two a week to make sure you've got even more help like a part-time CTO, whilst you get the new product out or find that full-time member. Get in touch via Green Turtle.
Unlimited API Support - I've sold a few support tickets I've jokingly been calling the API Bat Phone, and I have three left. I'll give you a direct link to my calendar so you can get as much help with whatever you like for six months. I've sold three of these and I've enjoyed reviewing OpenAPI for new APIs, answering random emails at all time of day and night, and having some "Augunt Aunt" sessions where people get help with whatever tech problems they're having. No limit on the number of hours. Try and make me regret it.
Subscribe for a paid membership on this blog so I can continue to work on the Unf**king the Climate series, and write about green tech which has huge potential to improve how the internet impacts carbon emissions, water usage, and grid resiliance.
Subscribe for a paid membership on APIs You Won't Hate. We have been writing loads, ramping up the podcast, and I'm going to be doing more paid videos as more memberships come in.
Buy a copy of my latest book Surviving Other People's APIs. It's basically done, but I need more feedback from you to make it better.
Anyone who can do any of these things is helping me keep doing what I do: fight for the planet, and educate people on how to not make shit software.
This was not easy to write, and I've put off asking for help for too long, but your support is massively appreciated.